---
RODDY J. BETANCOURT
Music Lessons in:
Sax, Voice, Piano, Theory, Songwriting/Arranging, and Recording
Roddy J. Betancourt is a graduate from the University of Miami and holds a bachelors degree in music education with an emphasis in Jazz.
He is a saxophonist and singer who has performed and recorded internationally for over 35 years. His experience and versatility in numerous genres, involvement with numerous Christian and secular organizations, has also benefitted his students throughout a teaching career of over 30 years. His passion to serve in the arts has led to establishing, aiding and founding many organizations.

He is also the owner of Sunrise Sunset Studios in Hialeah, Florida recording & producing music, video, and graphic arts for numerous artists and clients.
---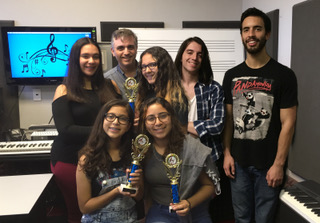 The most effective and fastest way to really learn

MUSIC!
SE HABLA ESPAÑOL
info@rubiomusicacademy.com

The Best Time for
MUSIC LESSONS
---
At the moment you want to start learning to play your favorite instrument, at Rubio Music Academy you will find the best schedules with the best teachers.